Everything proposed and supplied by EOS is the result of a precise investigation, nothing is left to the casuality.
EOS has not standard machines or spare parts ready on stock.
Every item is special, done for a specific Client,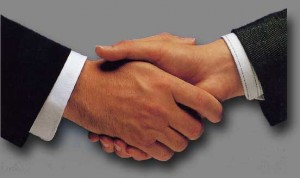 properly made for his own need.
Even in case of "simple" spare part as a pelletting stainless steel die,  EOS plans the most suitable solution upon the Customer's need, according with his specific requirement.
After the individuating of the machine' technical features, EOS always cross the requirement with the data of his archives and submit to the Client the offer, indicating all technical data over the commercial terms and conditions.
Proposal always considers both the enquire and the archive data, coming from the experience of several working years on the specific field.
Building phase starts after the full definition of every technical detail only. Productive process "blue drilling" type is fully operated by means of automatic drilling machines of last generation, the best available technology on this way. Further steps are the under vacuum heat treatment and the grinding to avoid every eventual risk of die distortion and/or its ovality. Then a final grinding of all entrance cone of every single hole present on the die.
Unlike many other manufacturers, we proudly declare that our dies are NOT runned. Somebody says that die running is a virtue, but indeed it is an aggregated production step only, due to miss the low accuracy had during the drilling phase. Who is manufacturing dies on serious and accurate way knows very well that a good die does not need the running. A perfect die is ready from the beginning to reach the max performance on pellet production.
At the end of the building process we proceed with the quality checks and dimensioning tests. After of its packing, the spare is now ready for the shipping (by air freight, by sea or by truck) naturally upon EOS's responsibility.
Some "manufacturers" propose and sale rubbish chinese spares as Italian goods.
If you would like, click here below and you will get prompt confirmation: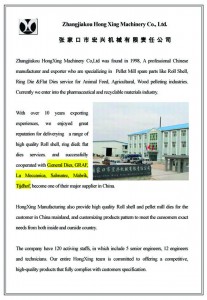 On the contrary, we build all our spare parts in Italy, by materials and technology 100% Italian.
We repeat one more time: ask us for the certifications of quality and of origin
they are available for every spare and for every machine proposed by EOS.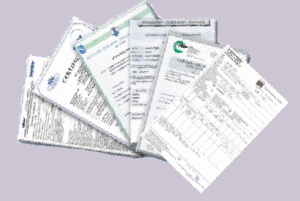 Upon request we supply all the certificates about steel, heat treatment, quality and size check.
Frequently EOS asks to the Client information concerning his supplied materials, the after-sale service is an indispensable component of our work. We like to know the Customer's opinion, just to use it as an incentive to improve our service. On this way we will be offering always the best quality solution, granting to the Customer his total satisfaction.
That's our work philosophy.
.